Greetings all,
Below is a recent email I received from Dr. Datis Kharrazian whom I have previously spoken to you about.Coming up up from July 29 to August 6, 2019 will be an amazing web based summit on autoimmune disease.  All at no charge. The lineup of speakers is really quite fantastic, including Dr. Kharrazian, Yehuda Shonefeld MD, Mark Hyman MD, Jeff Bland PhD and David Perlmutter MD to name some of the top speakers.  If you are looking to improve your health or overcome some chronic disease, do yourself a favor and tune in to some of the speakers. When you sign up for the summit, which only takes 1 minute, you will have immediate access to 4 interviews.  The one from Dr. Kharrazian on improving and / or reversing your brain's inflamed state is excellent. He does a very good job describing what it is that doctors like me that practice functional neurology do.  Take notes and feel free to discuss any questions that may come up with me.

Regards,
Jacob Bastomski DC, DIBCN
The below email from Dr. Kharrazian: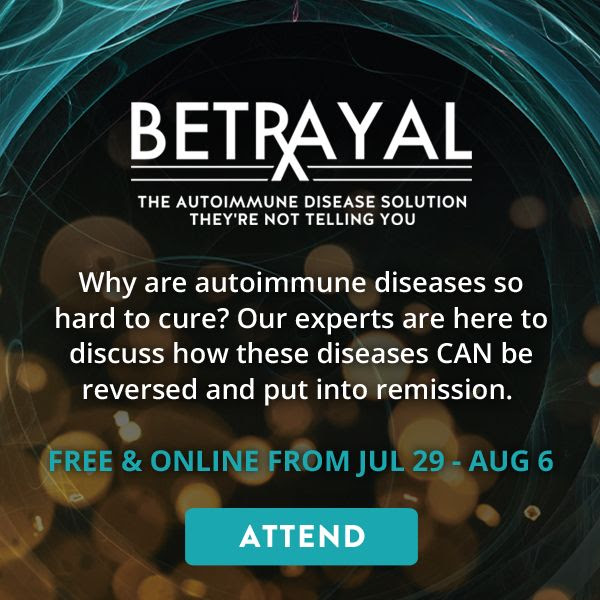 Sometimes I get an application for a new patient and have to turn them away because their brain degeneration has crossed the "line of no return."
If your brain is not working like it used to, don't wait for it to get better on its own. It won't.
I'm not telling you this to scare you, but to motivate you — the brain is extremely responsive to rehabilitation. But while there is a lot of hope, there is also a point of no return.
If you register for the free Betrayal Series, you can listen to a clip of my talk on this and other aspects of brain health right away.
If you suffer from brain fog, reduced cognitive abilities, fatigue, or memory loss, you might want to learn about how to take better care of your brain.
If you see a classic neurologist and complain of symptoms, you may get an MRI. While an MRI is a valuable diagnostic tool, significant tissue damage has to occur before the MRI can show anything conclusive.
What happens to those patients whose damage isn't extensive but still causing significant symptoms? They are typically told to go home and come back when their symptoms are worse.
The problem is once your brain is that far gone, it's too late to reverse the damage.
This is where a functional medicine approach to brain health comes in
In a functional medicine approach to neurology we look for early signs of brain degeneration. Improving brain function isn't always complicated: sometimes simple interventions can make a huge positive impact on the brain, especially over time. I see it all the time in my clinic.
Why I got into more extensive brain care
Over time in my practice I saw that many patients weren't getting better despite doing everything right. I had to dig deeper.
Brain degeneration profoundly impacts not only patients, but also their loved ones. Through a functional medicine approach to brain degeneration, patients have the best chance to regain healthy brain function.
If you would like seek help from a functional medicine practitioner who also specializes in brain health, you can try using these two practitioner finders:
I will be talking more about neurology, brain degeneration, and how we work with autoimmune patients in an interview with Dr. Tom O'Bryan at Betrayal: The Autoimmune Solution They're Not Telling You. The series airs free online from July 29 to August 5.
It's an interesting conversation, and I hope you will join us.